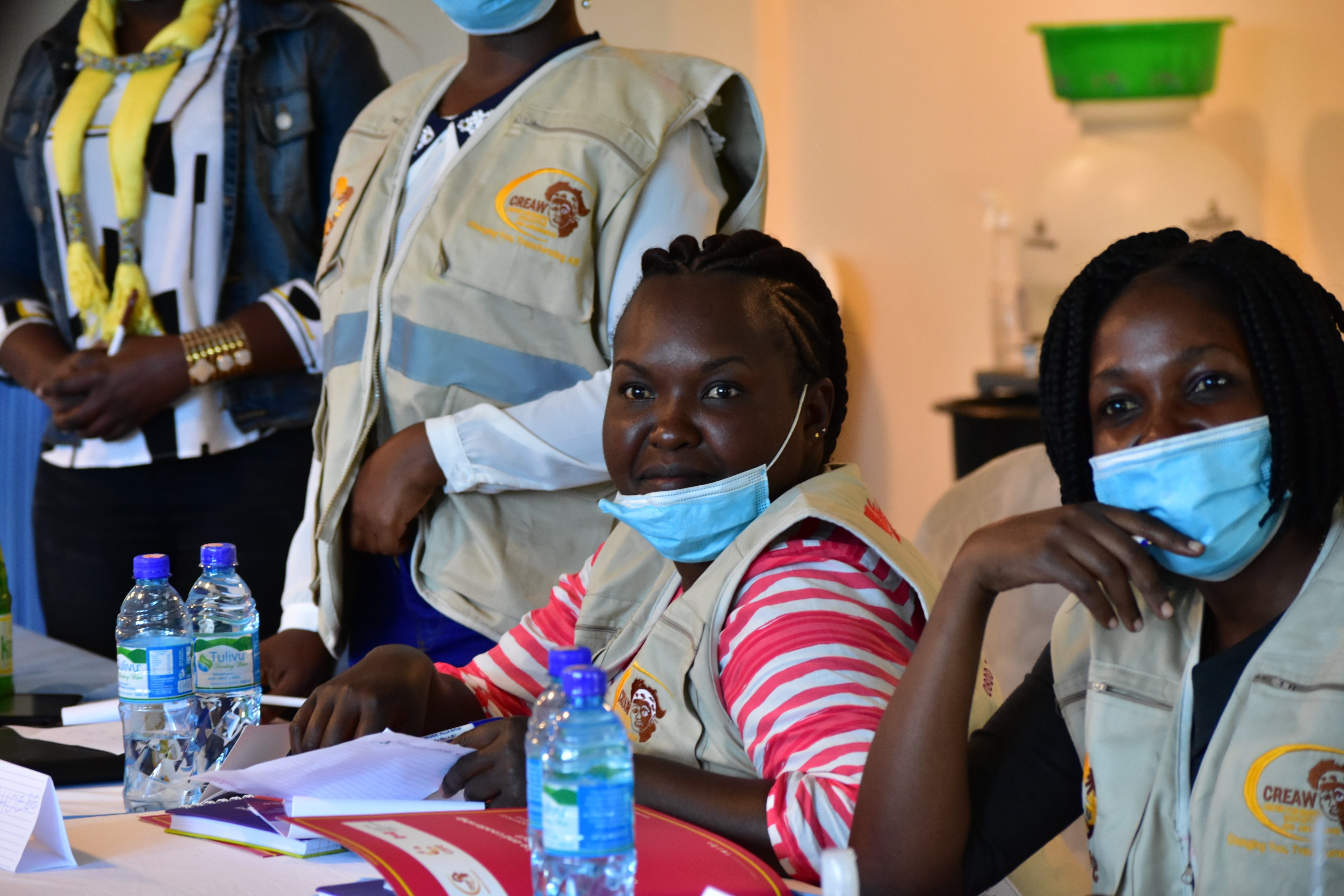 |
|
CREAW SUPPORTING WRO'S IN POLICY ADVOCACY
Date: 06-12-2021
By CREAW

In the year 2019, Meru County became the first County in Kenya to adopt an SGBV policy. This was made possible through community led advocacy initiatives working with women led accountability groups and technical support from within CREAW to the county leadership. CREAW went further and supported other counties specifically Narok, Kitui, Isiolo and Kilifi to develop similar policies contextualized to the specific county needs that are under review and consideration by the respective county governments. The success has motivated and synergized CREAW to use the lessons learnt from the interventions to build capacity of women rights organization and increase their voice, power and agency to address inequalities at County level.

For the first time in recent years, grassroots women rights organizations in Kenya ranging from community-based organizations (CBOs), self-help groups (SHG) and nascent, informal rural women groups were given the opportunity to seek direct funding towards strengthening their institutional capacity and enhance their drive to engage in advocacy on gender equality. This was a new departure, where most funding opportunities seek to support established, well known agencies in the country. The funding made possible by Global Affairs saw a high of over 218 such agencies drawn from only nine (9) counties expressly make applications for considerations to the WVL program; to the CREAW led multi-year granting call for proposals. Initial concepts have demonstrated a growing yearn to improve institutional capacity with strong strategic frameworks, improved financial systems, governance, fundraising and increased community advocacy on women empowerment.

During this reporting period, 70% of the selected WROs have been actively engaging in activities that are progressively enhancing their capacity and interest in human rights advancement focusing specifically on women`s rights such as utilization of technology and socio media, resource mobilization and networking and partnership building. For instance, PARAN Indigenous women group from Ololunga Narok, and whose main thematic areas is mobilizing women to combat the severe impacts of climate change in the area as well as ensuring food security through sustainable agriculture have recently been nominated for the Global Landscape heroes 2020. Through their activities, they ensure that grassroots women, the indigenous Ogiek and Maasai women are visible and have a voice to demand their rights.

SUPERB CBO from Nairobi, a young feminist organization supporting and amplifying the voices of vulnerable women and girls in Kibera informal settlement was featured in CITIZEN TV for their innovative and inspiring work in promoting menstrual health and hygiene especially during the COVID-19 pandemic. This has increased the level of confidence among other selected WROs as well as motivated them to actively and progressively enhance their capacity in using media as a tool of change in advocacy and awareness creation.

During this reporting period, 5 WROs have reported to have acquired their own working offices and which have made them to function effectively. During this reporting period a total number of 4 partners have attracted diverse funding opportunities from different donors. This has impacted the WROs positively and enhanced their effectiveness on quality service delivery to the vulnerable and marginalized women and girls.